Best Snacks for Hiking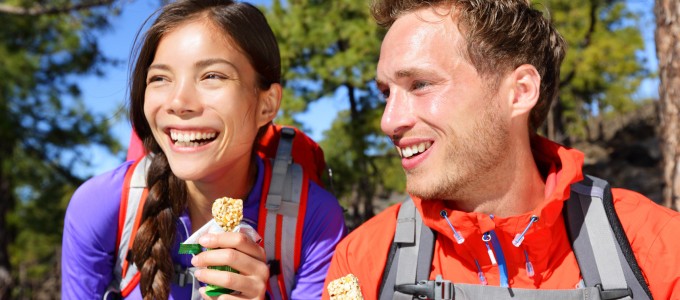 Cooler weather doesn't have to signal the end of hiking. In fact, many people enjoy the crisp air and the changing scenery. Packing snacks for your hike can be a challenge – you want them to be lightweight, nonperishable, and most of all, healthy. You don't want to ruin all that great exercise you are getting by eating junk food out on the trail! Even if you are only going to be out for a few hours, a healthy snack or two in your backpack can help you stay energised and comfortable.
Protein bars: Look for those with healthy, natural ingredients. Energy bars are easy to pack, contain lots of nutrients your body needs, and come in many delicious flavours.
Fresh fruit: Nothing is easier or healthier to grab for your excursion than an apple or a banana – pick fruits you won't have to cut up. Eating fruit will give you an energy boost as well as some extra water, essential for any workout.
Turkey jerky: Jerky is lightweight and can be a great source of protein. Just read labels carefully and steer clear of nitrates.
Hummus and pita bread: Pack hummus into a small container or buy single-serve packages; add a bag of whole wheat pita bread for dipping. This is a tasty and filling option that is super healthy but tastes like a splurge.
Trail mix: Trail mix is perhaps the most popular hiking food out there, and it can be healthy, as well. Making your own is a good option that allows you to control which ingredients go into your snack, such as nuts, seeds, dried fruit, and coconut; skip the candy and any other less-healthy ingredients and you can feel good about your snack.
Any of these makes a great hiking snack. Avoid foods with lots of sugar, which will give you a quick boost but won't sustain you through a long or demanding hike. Also avoid anything in cans, which are heavy, and jars, which can break. Anything that will melt or spoil is also not ideal for hiking.
If you want to bring along something that being out of the fridge will affect, such as cheese, try using a small ice pack inside the compartment of your backpack with the food. This should work just fine for a short hike of no more than a few hours. Finally, don't forget plenty of water. Happy trails!