Pizza: A Health Food?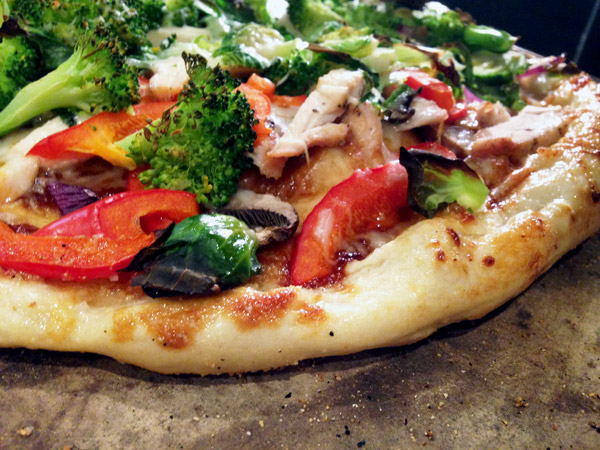 Pizza may be the ultimate convenience food and the ultimate fun food – but did you know it could also be the ultimate health food? Pizza has the potential to be extremely healthy and waistline-friendly; it completely depends on how you make it. To make pizza as healthy, nutritious, and low-calorie as possible, try these eight great tips.
1. Start with the right crust. Typical white-flour pizza crust has no place in a healthy diet, except as a rare treat. Instead, make your own whole wheat crust, or use whole wheat pitas or tortillas. If you must order pizza out, order thin crust. This one change makes a huge difference in caloric content.
2. When you make pizza, top it with lighter cheeses. Part-skim mozzarella, naturally lower-fat Parmesan, and nice, sharp Provolone are all good choices. And go lighter on the cheese and heavier on other toppings like…
3. Veggies, veggies, veggies! Pizza is an excellent opportunity to fit in tons of vegetables. Use up whatever's in the fridge, even cooked veggies from last night's dinner. There are no rules – load your pizza up with anything you have on hand.
4. Trade the pepperoni and sausage for leaner meats such as turkey bacon, grilled chicken, or even shrimp.
5. Make your own sauce if you're feeling ambitious. Homemade pizza sauce tastes fresher and is generally healthier than jarred sauces, which typically contain tons of sodium and preservatives. And think outside of the box: pesto makes a good pizza sauce, and so does a drizzle of olive oil and minced fresh garlic.
6. Watch those portion sizes. It's easy to overeat pizza; people tend to mindlessly munch when it comes to this popular finger food. Try using a knife and fork if that slows you down, and stop when you're no longer hungry – a strategy which probably does not allow for that third or fourth slice.
7. Serve a salad on the side. Adding a salad to the menu can make it easier to watch your pizza portions.
8. Spice it up. Red pepper flakes and fresh chilies are a great way to add tons of flavour without adding fat.